We keep your children in mind when we produce and train our ponies.
Our ponies ( ponies we have raised and trained ) have WON World, placed TOP 3 at World 2009 and placed very high at the local shows and the County Fairs !
Charlies Angel , raised and trained by us.
Congratulations Oliver Family
Sally,
congratulations Mc Fatrige Family
Cinnamon,
Congratulations Hayden !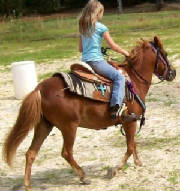 Rocket's Scooby Doo is now working a in Girls Riding school in South Carolina.
Enter subhead content here